"Multi Infomedia Pvt. Ltd." was incepted in 2002 under the leadership of highly experienced person in printer spares, plotter spares & consumable industry. Ahmedabad (Gujarat) based Multi Infomedia specializes in trading activity for printer spares & bulk toner, cartridge spares and consumables. It markets its products with arduous affords and remarkable innovation for three years, Multi Infomedia. In the field of printer spares & cartridge spares Multi Infomedia maintains the widest range & best quality out put.
Multi Infomedia, in its eight year journey is a step ahead of the market evolution in the printer spares & cartridge spares industry. highlighting a different strategy to grab businesses amidst strong completion, Mukesh Patel, Director, Multi Infomedia, reveals, "we only offer innovative and quality products bundled with solutions weaved around them. That's why we have no competition in the Indian market."
The company has stock an entire range of genuine, oem, printer, Plotter & Cartridge Spare Parts, such as a Fuser Assembly, Maintenance Kit, Formatter Card, Pick Up Roller, Scanner Assembly, Lower Roller, Teflon Sleeves, Encoder Strip, Trailing Cable, Timing Belt, Sensor, Lever all type of Printer spares & include the Cartridge spares like we have a wide variety for OPC Drum, Doctor & Wiper Blades PCR Roller, Magnet Sleeves , Toner Chips for which we maintain model wise widest range provide for all over in India ." said Mukesh Patel, Director, Multi Infomedia.
We are mainly dealing in genuine, OEM, printer & cartridge spares and always maintain the quality. "Best quality, better life span, competitive price" We are backed by a team of efficient, energetic young, dynamic and talented brains. The printer & cartridge spares sales & repairing work of our company is a well-respected in the Printer, Plotter & Cartridge Spares Industry" said Mukesh Patel, Director, Multi Infomedia Pvt. Ltd.
Mukesh Patel, an energetic young man started his first business venture in the IT field distributer in printer & cartridge spares in 2002. "Since 2008 we are importing Compatible Cartridges & cartridge spares for various brands like Epson, HP, Samsung, Brother etc. and supplying to Indian market" said Mukesh Patel.
"Our uncompromising standards of reliability and performance are backed by the most efficient after sales support network. We're trying to expand our product line up and providing the best cost – effective solution to the customers" concluded Mukesh Patel.
Company Profile
Basic Information
Nature of Business
Manufacturer
Additional Business

Supplier
Wholesaler
Trader
Service Provider
Importer

Year of Establishment
2002
Total Number of Employees
11 to 25 People
Legal Status of Firm
Private Ltd. Co. Registered under Indian Companies Act 1956
Annual Turnover
Rs. 2 - 5 Crore
Company USP
Primary Competitive Advantage
Large Product Line
Quality Measures/Testing Facilities
Yes
Packaging/Payment and Shipment Details
Customized Packaging
Yes
Payment Mode
Shipment Mode
By Road
Our Team
We are supported with the enthusiastic team of professionals who have a passion to deliver a world class customer experience. Our professionals are carrying a positive attitude and a proven track record of delivering excellent quality of products and services. They are committed to their customers and work round the clock to gains soaring satisfaction. Our team of professionals goes the extra mile to support our coveted clients that is crucial to successfully building excellent relationships with them.
Why Us?
We are renowned in the industry for our principled business policies and transparent dealings. Some of other factors that have considered us as the foremost entity in this domain are:
Renowned vendor base
Strict quality standards
Client centric approach
Timely delivery
Competitive pricing structure
Vast distribution network
Ethical business practices
Our Services
Sales of genuine, OEM printer spares, plotter spares & cartridge spares.
Repairing of laser printer, plotter, inkjet printer, dot-matrix & also chip level repairing
Manufacturer of all type of printer & cartridge spares also toner chip module
Technical support for printer repairing,
Best quality better life span competitive price
Our imaging solution brand name "i-jet"
Awards and Certifications
Awards and Achievements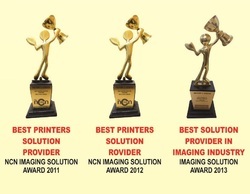 Our Certifications
Certificate of Registration
ISO Certification
Our Vendor Base
We are supported with a reliable and certified vendor base, from whom we procure a wide range of Cartridge Spare Parts. Before selecting our vendors, we organize an extensive market research on various parameters like market credibility, financial stability, goodwill in the market, etc. Our professionals make sure to keep a cordial relationship with the respectable customers, in order to cater to their demands accordingly. With the support of our vendor base, we have garnered wide client base across the market.